Secretary of State for levelling up visits CATCH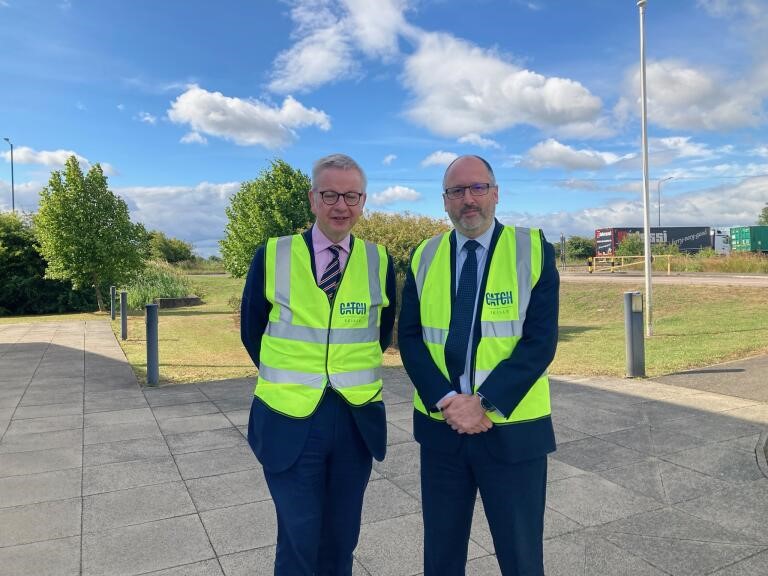 The lens of Government is on Grimsby, as the Secretary of State for Levelling Up, Housing and Communities, RT Hon Michael Gove, visited the North East Lincolnshire region today. Part of the visit focused on the challenging skills gap and the skills required for the region's NetZero Future.
The Secretary of State took time to visit CATCH where he was hosted by CEO David Talbot and Head of Operations Paul Snowden.  Mr Gove was shown around the world class facilities on site and discovered how CATCH supports the region's industry.  David highlighted that "CATCH is at full capacity"  during the tour, which included the National Centre for Process and Manufacturing, the state art facility at CATCH offering 'real world' experience.
David commented, "It was a pleasure to welcome the Secretary of State, so we could present the fantastic facilities we have here at CATCH.   I was great to showcase our unique training environment, from our introduction to industry experience programme leading to our apprenticeship provision and upskilling and reskilling adults in a fully emulated Process Operations Environment. The Secretary of State heard about the challenges faced by industry and was shown firsthand how we are helping to plug the gap right here in Stallingborough".
Discussions during the tour focused on engaging young people into high skilled jobs and the importance of vocational training in the high hazard industries.  The CATCH vision for a regional Industrial Decarbonisation Center was raised, which will incorporate a low carbon skills hub to support the huge investment opportunities in the region around carbon capture and energy transition.
Later, stakeholders including our CEO, joined RT Hon Michael Gove for a round table skills discussion at Grimsby Town Hall.  Conversation focused on the importance of industry reach back into schools, and support to the key industries in the region from seafood to chemical and petrochemical processing and the burgeoning offshore wind sector.
Lisa Buck