Industrial Decarbonisation Research and Innovation Conference (IDRIC)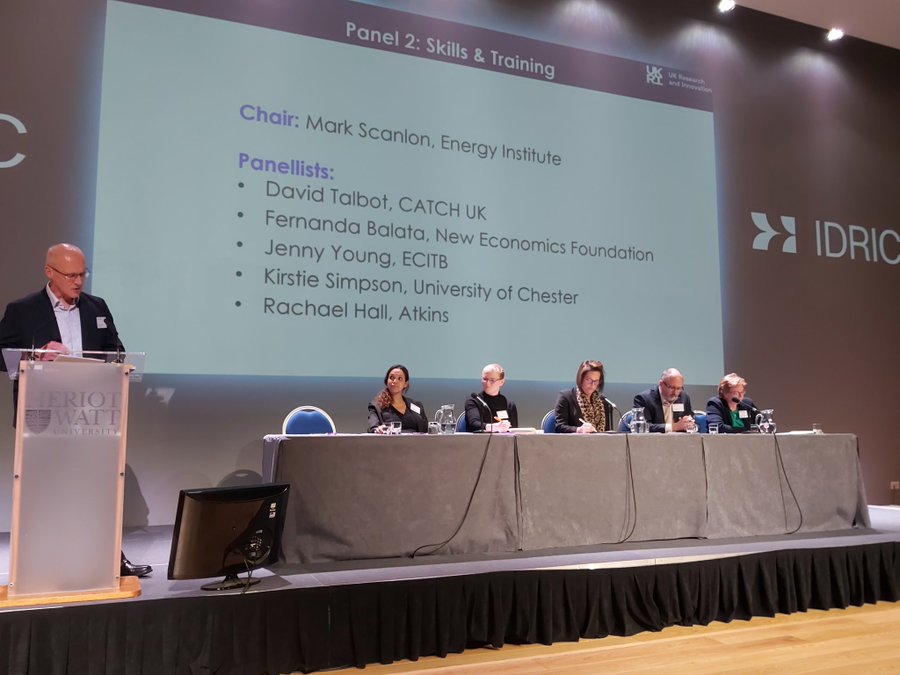 David Talbot, CEO and Alistair Ware, Director of Strategic Projects had the opportunity to attend the Industrial Decarbonisation Research and Innovation Conference (IDRIC) held on the Heriot-Watt University Edinburgh campus week beginning 6 June.  David was an invitee speaking on the Skills & Training Panel on Day 1 of the Industrial Decarbonisation Showcase sessions.  He was accompanied on the panel by speakers from Atkins, ECITB, the New Economics Foundation and the University of Chester.  At points, the debate centered around the volume issue relating to the need for skilled tradespeople, with David highlighting the lead time needs.  There was some concurrence on a seeming lack of a central strategy or coordination, though Jenny Young of the ECITB did mention the Green Jobs Delivery Group, the Infrastructure & Projects Authority and the Future Skills work of the Dept. for Education in London.   In concluding, there was reference to the apprenticeships pipeline and levy funding limitations, linked to an immediate need for skills.
Alistair, Edinburgh based usually, continued with the further conference days encountering panels on:- Low Carbon Technologies; Social & Public Engagement; Systems & Scale-Up; Environmental Considerations; and Policy & Regulation.  The third day introduced elements of feedback on the IDRIC Wave 1 research projects' gaps, potentially pointing towards the forthcoming Wave 2 research/projects call anticipated in the near months.  The IDRIC event brought contact for CATCH with potential Wave 2 interested organisations and their researchers.  Our relationship is on the one hand an informative one in multi-directions, as a key industrial member-based entity on the Humber.  On the other hand, there might be participative merit in CATCH being included in a relevant, likely partnered, project submission when the call is made.  There would be fit too with the Humber Industrial Decarbonisation Centre (HIDC) concept.
CATCH member company Evides Industriewater was also present, with Colin Robinson, UK Business Development Manager speaking on the Environmental Considerations panel along with SEPA and Project Energy representatives – Project Energy being linked to the Northwest Cluster/Hynet.  Jonathan Oxley of the Humber Industrial Cluster Plan (HICP) spoke on the Social & Public Engagement panel.  From the CATCH member universities, Peter Taylor, Professor of Sustainable Energy Systems of Leeds University spoke on the Policy & Regulation panel, whilst Dr Carolina Font-Palmer, Lecturer in Mechanical Engineering of the University of Hull Dept. of Engineering and Dr Aliyu Aliyu, Senior Lecturer in Sustainable Energy of the University of Lincoln School of Engineering were also present at the event.
Lisa Buck