CATCH Industrial Decarbonisation Network – write up 14th June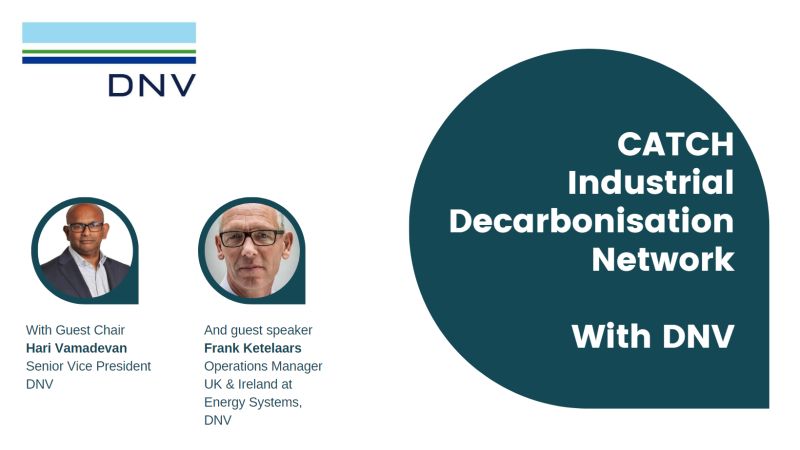 David Talbot, CEO CATCH warmly welcomed delegates online and in person to the CATCH Industrial Decarbonisation Network with DNV on the 14th June.  David introduced Hari Vamadevan, Senior Vice President at DNV, who provided the audience with an introduction.
Hari gave thanks to CATCH and explained that recently 2 coal power plants have recently been brought back online, which is a stark reminder that the energy systems balance remains a challenge for the UK.  Hari told the audience that DNV have produced over a number of years a Global Energy Transition Outlook, however now are able to share the UK Energy Forecast report, which is a cost based, single scenario.
Frank Ketelaars, Project Manager of the UK Energy Forecast report, advised that the report was their best estimate of the future landscape. He went on to discuss the four pillars of the UK energy system, demand, supply, infrastructure and investment.   Frank explained that even though GDP and population are set to grow, energy demand is likely to reduce due to large scale electrification across all sectors. Fossil fuel is still likely to deliver a third of energy demands mainly for heating, commercial transport and power generation. They predict that there will be a limited uptake of hydrogen by 2050.  The Hydrogen demand will ramp up to 4 MT/yr by 2050, not meeting the government target of 10 GW. Of this Hydrogen, only half of the production will be green.  Mainly due to the amount of renewable electricity required. Frank then explained that the UK's primary energy supply will shift from fossil fuels (currently at 80%) to low carbon sources such as Nuclear, renewables, variable renewables (70%) by 2050.   Next he explained that the electricity demand in the UK will increase by a factor of 2.5 by 2050, and 95% of this will be low carbon. Of this three quarters will be supplied by variable renewables such as wind and solar.  For this to happen a major expansion of infrastructure and grid connections is required.
Next Laura Woods, Business Development Manager from Associated British Ports provided guests with an update on the Humber Green Energy projects.  Laura told the audience that ABP operate 21 ports in the UK, South Wales, Humber, which is the busiest port cluster and Southampton. They handle 25% of the seaborne trade and contribute 7.5B to the UK economy.  Laura explained that Air Products are the key partner for the Immingham Green Energy Terminal, which will see a new jetty and up to two births for the importation of Ammonia. This project will kick start the hydrogen economy, particularly hydrogen for mobility and decarbonisation of the transport sector.  The East site will include ammonia storage, hydrogen production and hydrogen liquification, with the west site being hydrogen production, liquification, hydrogen storage and vehicle loading. There will be a pipeline corridor between the two sites and a corridor for jetty access road and pipeline.  Next Laura explained about their project with Viking CCS, developing a CO2 transport and storage network connected to the Immingham cluster. A new pipeline is proposed to transport C02 to offshore storage in the Southern North Sea.
Next Frank, Laura and David participated in a Q&A panel hosted by James Jenkins, DNV, which largely centered around a skilled workforce to deliver the projects.  David explained that the engineering and construction workforce is a transient one, and that as a region we are competing against other sectors and areas of the UK for skilled people. We have three main areas of concern such as the existing skills gap, an aging workforce and that we will need in excess of 22,000 high quality engineering construction jobs such as pipefitters and welders. David advised that the only way to do this, was for all stakeholders to work together.
The meeting was closed by James Jenkins, DNV, who thanked attendees for their time.
The next CATCH Industrial Decarbonisation Meeting takes place on the 4th July – details here
Lisa Buck