CATCH Announces its vision for a new £60M National Net Zero Training Centre Expansion at Stallingborough Headquarters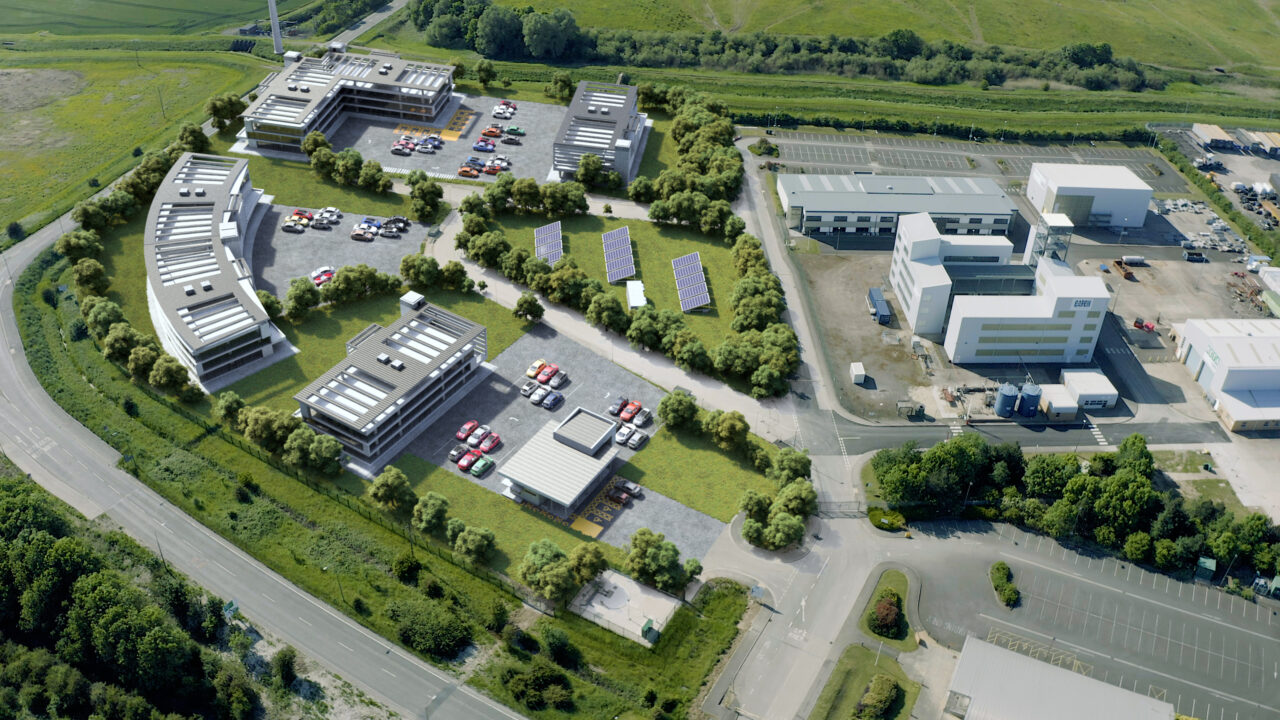 An Artists Impression of how the New CATCH National Net Zero Training Centre could look
Today, CATCH announced ambitious plans for the development of a £60M state-of-the-art training facility, to reach a training goal of 1000 apprentices a year by 2029, at its Stallingborough headquarters, with the intent of tackling the engineering construction skill shortages anticipated in the Humber cluster and across the UK.
In anticipation of a series of Net Zero projects set to commence from as early as 2024 and beyond, a significant demand for skilled labour is on the horizon. These projects are projected to generate a potential 20,000 new industrial jobs, necessitating an unprecedented, rapid upscaling of the existing skills pipelines.
Following initial funding support from key industrial sponsors, and CATCH members, Phillips 66 Limited, Harbour Energy, and VPI Power, CATCH has developed plans for the future training centre expansion needed to deliver 1000 new learners per year by 2029.   Developing towards a future final investment decision, CATCH plans to continue to build broad support across industry and government for this new national net zero training centre.
Subject to further partner engagement and planning permission, the new facility is planned to house a national net zero conference and learning centre, bespoke classrooms and workshops for electrical, instrumentation, mechanical technical skills, a welding and fabrication hub with an impressive 160 welding bays, and a UK first of kind outdoor Process Unit Training Module to enable a real process site experience in a safe environment for all trade skills. In addition, provisions cater for enhanced car parking facilities and a dedicated CATCH regional bus infrastructure to help get talented apprentices to the site from across the Lincolnshire and Yorkshire regions.
"Our phased strategy ensures a sustainable expansion of apprenticeship numbers, targeting the training of 1000 apprentices annually by 2029," David Talbot, CATCH CEO commented, "The backbone of this initiative's success will be the support from the industrial supply chain. Many companies understandably are waiting to assess the skills landscape before committing to expanding or creating new apprenticeship vacancies. Our proposed new facility helps to mitigate this risk, with dedicated support from the CATCH team, the industrial supply chain can be confident that together we can ensure that the skills pipeline is sustainable for the low carbon future.
"It's a complex picture, and we realise that we cannot do this alone, we all need to pull together as a region, to solve one of the biggest challenges to deploying the net zero infrastructure.  This tabled investment represents a vital piece in the puzzle of the UK's decarbonisation journey.
Central to CATCH's vision is the cultivation of the next generation of skilled highly paid labour. Through their dedicated schools' engagement team, CATCH aims to tap into the local communities, shedding light on STEM career paths and fuelling aspirations.
"Our mission is clear: to inspire and educate the industry's future craftspeople. The UK's path to net zero starts with today's youth, and we're here to ensure they have the resources, skills, and opportunities to lead the way" concluded David.
Paul Fursey, Lead Executive UK and Humber Refinery General Manager said:
"To build the infrastructure required to deliver net zero for the UK, we need to invest in creating the skilled workforce of tomorrow. CATCH's new Net Zero Training Centre will become a hub of excellence, demonstrating how the UK can increase the knowledge and skills needed to deliver the net zero targets. Through support from Phillips 66 Limited and our fellow delivery sponsors, Harbour Energy and VPI, local industry support, and local schools and colleges, we believe we can make a powerful difference to inspire the next generation of welders, pipefitters, mechanical fitters, platers, scaffolders and much more."
Viking CCS Project Director Graeme Davies said:
"Viking CCS is crucial to unlocking net zero in the UK and helping to decarbonise industries in the Humber, however we need thousands of skilled workers to build the infrastructure to deliver it. This is a huge opportunity for the Humber and North Lincolnshire to be at the epicentre of an enduring green jobs revolution."
Jonathan Briggs, VPI Humber Zero Project Director said:
"Delivering a decarbonised Humber and enabling the energy transition to facilitate this means pre-investing in the workforce of the future. The Net Zero Training Centre at CATCH will support the creation of the Humber's new workforce, safeguard the competitiveness of the Humber's industrial base, and support leading projects such as Humber Zero and Viking CCS".
Julian Free, University of Lincoln Deputy Vice Chancellor said:
"This significant expansion of CATCH facilities to train the skilled people the Humber needs to decarbonise is a critical step in achieving Net Zero by 2050.  If the Humber's emissions are not radically reduced, and quickly, the UK will miss the target.  The development of CATCH working with industry presents a fantastic opportunity for those of us living in the region to play a major part in the UK's future success and to build a strong and prosperous region with long-term opportunities for all"
To keep informed about this project – register your details here.
Lisa Buck