CATCH Award for Excellence – Yasmin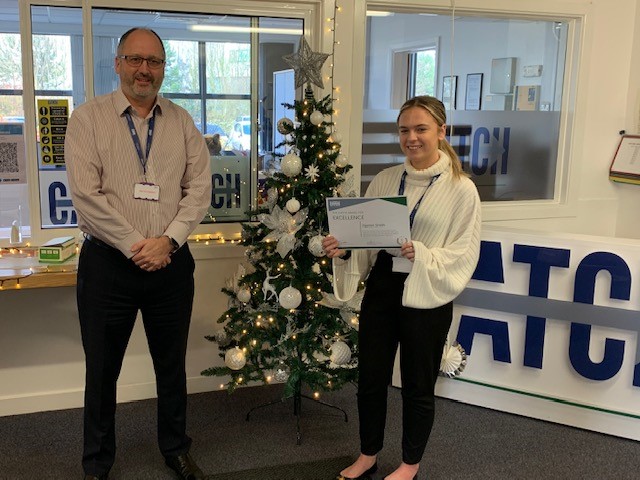 The CATCH award for excellence is a scheme for recognising when one of our employees really goes above and beyond. Yasmin Smith, Trainee Course Coordinator,  was nominated and then subsequently presented with the award this week.
Yasmin was nominated by colleague Jess Bocock and said "Yasmin has consistently taken on new challenges and responsibilities within her role since starting 7-8 months ago. In such a short space of time, she has achieved so much for the business. She has allowed the production levels to increase, staff members to take holidays with ease knowing their roles are covered with accuracy and has never complained about a job she has been asked to do. No challenge is too much for her and considering she didn't have any administration experience.   She has a very positive impact on the team and always comes to work with a smile on her face!"
On receipt of her award, Yasmin commented, "I was really shocked to receive this; I wasn't expecting it at all. I haven't been here long, but I really love my job already and everyone I work with is so supportive. I am very grateful to receive this award and I am pleased people think I'm doing a good job".
Congratulations Yasmin from all at CATCH!
Lisa Buck