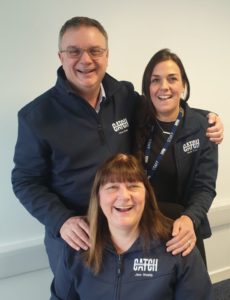 Today we are delighted to sit down with Dave Evans, one of our ConCom auditors for a quick Q&A session –  read on to find out all about our ConCom Scheme.
How old is ConCom?
Concom started around 20 years ago
Why and when was ConCom set up?
It came about for two main reasons.  The various Humber bank area petroleum and chemical companies (our Concom Clients) each recognised the need for evaluating and approving safe, competent contractors to work on their sites.  They collaborated on a common, client-led competency audit that would satisfy them all, saving time and money for both themselves and their contractors.  In other words, one audit per contractor for twenty clients, not twenty audits by twenty clients on the same contractor!  Key local contractors saw this as a benefit and also it gave them a 'level playing field'  when quoting for tenders against contractors external to the area.
What is ConCom?
Contractor Competency!  It's about auditing any contractors before they undertake work on our clients' sites to ensure they are safe and competent.
The principle is to have a single audit system which: –
Is client-led
Allows many clients to specify Concom membership as a prerequisite before 'approving' and placing a contract with a contractor
Is common, efficient and transparent with audits undertaken at the contractor's offices
Uses professional auditors to ensure consistency and quality
Saves time and effort for both clients and contractors
Has client auditors (normally of a discipline relevant to the contractor) to assist during the office-based audits.
Gives the clients a report, thus negating the need for many separate audits
How many members does the scheme have?
Presently 23 Client Members and we have recently held discussions with other potential companies, both in the Humber and the Yorkshire regions.
What do client members find useful?
We have a 'new contractor' prequalification audit (Prequal) that a lot of our Clients use us for.  It gives a first 'deep-dive' into a potential new contractor for the Client and ensures they meet their minimum expectations.  The ConCom Scheme audits are at two-yearly intervals and these ensure a contractor not only continues to meet the original requirements, but also continue to develop and improve as they go along.  If a contractor does have any issues to address, then all of our Clients are made aware – especially important when you think these contractors could potentially be working on all of our Clients sites.
What do client members find a challenge and how does ConCom help?
There are sometimes common issues that Clients see and have trouble addressing on their own.  For instance, trying to get some contractors to develop and demonstrate a proactive and positive safety culture.  Through auditing many different contractors and working with our wide range of Clients, we are able to share the best practices from other companies based on what they found worked.  It is really encouraging and satisfying to see that many contractors are now working on their systems and sharing their learnings at the audits with our Clients.
How do contractors become involved?
A contractor must be nominated by one of our Clients.  We do have a validation scheme (Preval) which audits in depth a contractor's schemes and gives guidance on any necessary improvements.  This is to the same standard as the Prequal audit.  Contractor membership costs are kept low – ConCom is part of CATCH at Stallingborough, and is a 'not-for-profit' organisation.
How many contractors have been nominated to the scheme?
About 280 'live' contractors presently – the total numbers fluctuate a little.  600+ have been audited over the years
How many audits take place each year?
About 140
What can a contractor expect on an audit?
When myself and the Client Auditor visit the contractor at their offices, we are looking at several specific areas:
Safety
Equipment maintenance & inspection
Competence
Health & wellbeing
Quality & environment
Management of subcontractors
Accident statistics
The contractor can expect open discussions regarding these subjects and any guidance that may help in developing their systems further
How long have you worked for concom and what do you think of the scheme?
I have worked for Concom for 3 years, but was involved with it for at least 10 years previously.  I was a Mechanical Engineer at Total Lindsey Oil Refinery and part of my role was to support Concom by being a Client Auditor.  I've always thought it was a fantastic scheme – where else do major international companies come together and agree a common, minimum standard for evaluating on-site contractors and sharing learnings?!  Imagine the trust that was needed to support the idea when it was first mooted!!  The last twenty years have shown how that original faith was and continues to be justified.
Thank you to Dave for his time!
For further information please contact Dave direct at dave.evans@catchuk.org
Lisa Buck