Climate Change – The Humber Briefing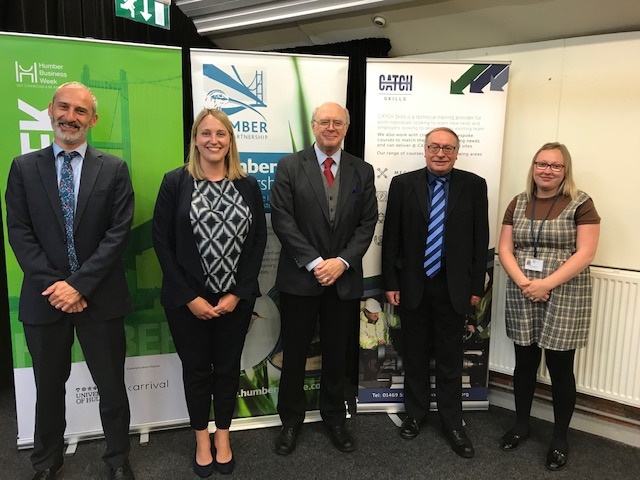 Pictured L to R:  Martin Budd, Julia Creasey, Mike Elliott, Tony Edwards & Jessica Moloney (not pictured Mike McDermott)
The Humber Environmental Managers' Network held their annual conference on Wednesday 5 June at the Ropewalk in Barton.  The event was attended by over 50 delegates from the membership's of CATCH and Humber Nature Partnership and many guests from a wide range of  Humber Business Week stakeholders.
Tony Edwards, Chairman of the Humber Environmental Managers' Network, opened the event and welcomed guests, thanking sponsors Shulmans, E3 Recruitment and the Humber Waste Alliance.
The first presentation was from Tony Edwards who spoke about Global Warming of 1.5oC and the Committee on Climate Change – the UK's contribution to stopping global warming.  Tony outlined the present position.  The CCC state the UK's is behind its existing targets under the Climate Change Act 2008 to achieve the current target of 80% reduction in GHGs by 2050.  The World still on track for a 3-4°C rise by 2100 with disastrous results for the ecology and economy of the planet, and thus all humanity.  Tony highlighted a range of actions to reduce CO2 emissions.
Up next, Julia Creasey, Group Sustainability Manager at Croda, based at Cowick Hall, gave a presentation on their journey to net-zero carbon.  The group has set very challenging targets in line with UK carbon reduction targets.  Julia presented Croda's vision for a carbon neutral site at Cowick Hall, creating a haven for indigenous species.
Before the break, Professor Mike Elliott from the University of Hull explored the climate projections for the UK.  The University have looked at the effect of climate change on estuaries.  Mike explored a range of sustainable solutions to estuarine and marine management and setting the COP18 in the wider context and reviewing local impacts.
Martin Budd from Hull City Council took the session after a break.  He explained the role of the National Adaptation Plan.  Taking a view on risk from climate change and adaptation actions.  Martin detailed the threat from flooding, impact on infrastructure like roads and railways, coastal erosion, heatwave, water supply and other factors.  Our infrastructure has been built to cope with cold winters and we do not have buildings and bridges that have been designed to cope with extremely high temperatures, for example.
The Senior Flood Risk Management Officer, Jessica Moloney, from Hull City Council t officer gave a presentation.  Jess outlined the ways Hull and East Riding are adapting to living with water.  The city council are taking land they own and re-profiling the land as aquatic-land but also use as community space.  More wildflowers across the city, excellent barrier between road and water.  A number of large flood defence and water storage lagoon projects are underway to adapt to hotter drier summers and warmer wetter winters.
The last formal presentation of the morning was given by Mike McDermott from East Riding of Yorkshire Council who presented on Health aspects of climate change adaptation.  Mike described a wide range of impacts on health from climate change.  The impact of heat on health has indirect impacts (such as roads, rail and bridge affected which reduces food deliveries and access to health care etc) and direct impacts such as heat exhaustion heat stroke, illness, death and hospitalisation.  Heatwave plan triggers a heat wave alert in Y&H as 29 oC daytime and 15oC night-time for 1 day.
Tony Edwards led a question and answer session.  Katie Hedges, Head of Membership at CATCH thanked the speakers, sponsors and attendees for their support.
Katie Hedges