BEIS cluster sequencing announced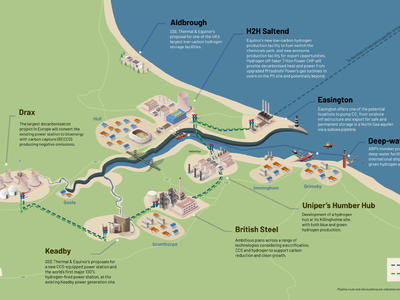 The East Coast Cluster has been successful in securing track 1 status in the BEIS cluster sequencing programme along with North West Cluster HyNet, and the Scottish Cluster in reserve. The East Coast Cluster is a collaboration between Zero Carbon Humber, Net Zero Teesside and the Northern Endurance Partnership and aims to create and support an average of 25,000 jobs per year between 2023 and 2050, with approximately 41,000 jobs at the project's peak in 2026. These skilled jobs in exciting new industries, including industrial carbon capture, low-carbon hydrogen production, negative emissions power, and power with carbon capture, can play an important part of levelling up in the UK.
David Talbot, CEO CATCH said "The Humber region has been at the forefront of the Government's NetZero ambition, particularly in the last few years. The announcement cements that vision, as leading industrial emitters work together to propel the UK to a low carbon future. For the last 12 months CATCH has been working with the HEY Lep and 8 industry partners to produce a strategic roadmap that will provide confidence to the UK Government, encompassing how industrial emissions will change over time and provide the region's projects and industry with a well-defined, optimal route to achieving true net-zero in 2040.  In addition to the work CATCH is currently undertaking on the Humber Industrial Cluster Plan, I am also committing CATCH to continue to support all the Humber's exciting deployment projects, our Members, and local industry by providing a lasting legacy to The Humber Industrial Cluster Plan work through to 2040 and beyond.
Lisa Buck