1st Skills, Competency and Apprenticeship Conference a Success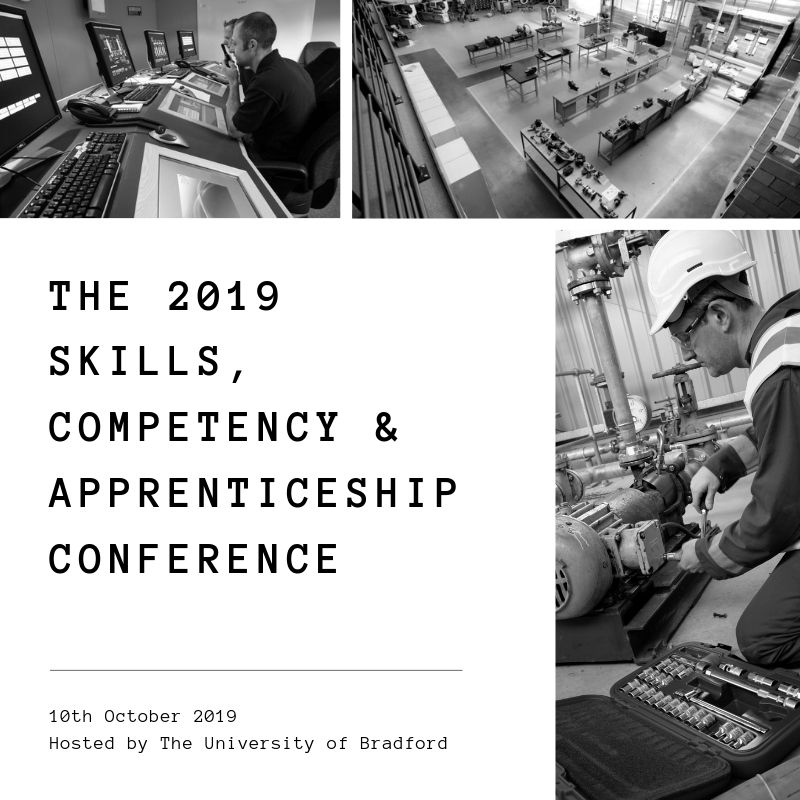 Over 50 delegates signed up to attend the 2019 Skills, Competency and Apprenticeship Conference hosted by the University of Bradford on the 10th October.
The sold out conference, which had support from E3 Recruitment, Roxby Training Solutions and Reynolds Training Services, aimed to enable companies to network, share best practice and provide solutions to challenges that companies could take away and implement in their own workplaces.
Commenting on the day, James McIntosh, Head of CATCH Skills said, "This conference was born from our Skills, Competency and Apprenticeship networks, which we host both in the Yorkshire and Humber regions. These group are led by an industry chair, which means that the networks are always relevant and provides significant support to those who attend. Our conference brought those groups together to share the learning journey of those in the industry, from early experiences at school and to upskilling and continual learning in the workplace"
The conference highlighted the importance of industry engagement with schools, with two members of the NuFarm NuGeneration team presenting their pioneering project. The project aims to engage with local school children to promote Nufarm and what they do plus inspire them in a fun and safe way to potential career opportunities in the process industries. The NuGeneration team is self-managed by the young people at Nufarm and not only provides community benefit but great learning and development opportunities for the individuals in the team too.  The project is now fully established and is looking to expand the number of schools they engage with.  Delegates were recommended to look at their own young people to see how they can make a difference in their workplaces.
The conference also heard from the Leeds City Region Enterprise Partnership, who gave insight into the local labour market and what the LEP are doing to support skills in the region.  Syngenta, who spoke about their extremely successful apprenticeship journey plus we heard from hosts – the University of Bradford who spoke about the amazing work they do with degree apprenticeships, industry engagement and their work placements team.
CATCH Skills then presented their new exciting collaborative venture between CATCH and DN College Group – CETP. This new initiative brings together engineering based training to promote engineering as a career choice to young people, to provide a gateway to employment for new entrants and to deliver workplace training to upskill existing employees. CETP has 11 locations across the Yorkshire and Humber regions to deliver first-class industry training, with the CATCH Skills facility being one of them.
The conference closed with David Talbot, CEO of CATCH leading an open discussion on the day's topics and events.
If you are interested in attending the skills competency and apprenticeship network, either in Yorkshire or the Humber, please contact the CATCH Skills team – info@catchuk.org
Lisa Buck