Industrial Energy Transformation Fund (IETF) Phase 1: Spring 2021 – how to apply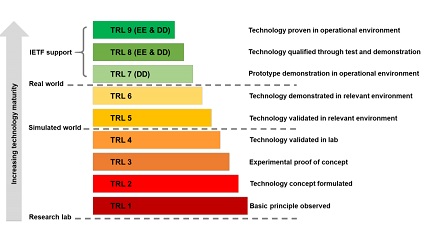 IETF Phase 1: Spring 2021 provides up to £40 million of grant funding for energy efficiency projects and studies. Innovate UK and BEIS are jointly delivering this phase of the competition for England, Wales and Northern Ireland.
Phase 1: Spring 2021 project types
Phase 1: Spring 2021 provides funding for:
projects deploying technologies that improve the energy efficiency of industrial processes
feasibility and engineering studies into energy efficiency and deep decarbonisation measures for industrial processes
Competition dates
For Phase 1: Spring 2021 applications, the competition:
opens on Monday 8 March 2021
closes on Wednesday 14 July 2021
Eligibility
The Phase 1: Spring 2021 competition is open to businesses of any size registered in England, Wales or Northern Ireland. To be eligible, your business must operate a site which falls into the following categories of activity:
manufacturing 10(000) through to 33(200)
data centres 63(110)
Businesses are allocated a SIC code at the time of registering at Companies House. You need to check your business SIC code to make sure you are eligible. In the case that a parent company has a SIC Code that does not reflect the activity carried out at the site of the proposed application, for example where a data centre is owned by a telecoms company, you may be eligible and should contact Innovate UK for further details at ietf@innovateuk.ukri.org.
The documents here provide more detail on the eligibility criteria.
Funding
The funding will be awarded as grants towards the total costs of successful proposals. To be eligible, proposals must fall within the stated minimum and maximum award thresholds:
| Funding applied for | Minimum threshold per application | Maximum threshold per project |
| --- | --- | --- |
| Energy efficiency deployment projects | £100,000 | £14 million |
| Engineering studies | £50,000 | £14 million |
| Feasibility studies | £30,000 | £7 million |
The minimum thresholds have been lowered in response to feedback received during Phase 1: Summer 2020.
For energy efficiency deployment projects, you must use the project benefit calculator v2.0 in your application.
Get in touch
If you need more information about the application process for England, Wales and Northern Ireland, please contact Innovate UK:
by email ietf@innovateuk.ukri.org
by phone – call the helpline on 0300 321 4357 between 9:00-11:30am and 2:00-4:30pm, Monday to Friday
Innovate UK offers an eligibility screening service which you should use if you have any queries about your proposed application. Type 'Eligibility screening assessment request' as the subject line of your email if you require this service.
Katie Hedges